Our News
25-Nov-2012 Gary Cleven participates in the inaugural meeting of the ISCC Technical Committee North America
09-Oct-2012 Gary Cleven participates in the Comprehensive ISCC System Certification Seminar
02-Oct-2012 Gary Cleven participates in the Aviation Biofuels Development Conference in Washington DC
In The Press
28-Jun-2010 IATA criticizes lack of progress on volcanic ash issues in Europe [ATW]
28-Jan-2010 The solid business case for cutting carbon emissions [BusinessDay]
06-Dec-2009 The implications of the EU's ETS [Aircraft Commerce]

16-Nov-2012 Airbus and EADS join Chinese venture to develop algae-based jet fuels, with demo flight planned for 2013 [GreenAir Online]
15-Nov-2012 Third wave of green flight trials to get underway in Europe as part of AIRE emissions reduction programme [GreenAir Online]
09-Nov-2012 Virgin Atlantic says 2020 carbon target on track as new aircraft and fuel efficiency measures deliver savings [GreenAir Online]
Former Services
When it was set up in 2009, SustainAvia prepared the Aircraft Emissions Monitoring Plan and the Tonne-Kilometre Monitoring Plan for airlines and business jet operators affected by the EU ETS (see Module 1a).
SustainAvia also assisted aircraft operator in the implementation of the EU ETS Monitoring Plans (see Module 1b) and in the preparation of EU ETS Manuals.
SustainAvia also offered a range of consulting and technical services addressed to aircraft operators in the EU ETS as illustrated in this figure: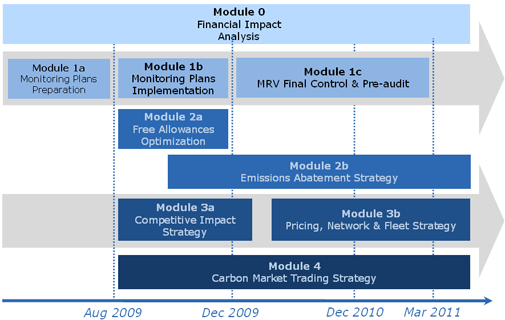 The names of aircraft operators who received technical assistance from SustainAvia are listed here.
When VerifAvia was accredited on 1 November 2010, all EU ETS activities of SustainAvia were transfered to VerifAvia, a verification body of greenhouse gas emissions for the aviation sector under the EU ETS Directive. The reason was to avoid any conflict of interest between consulting and verification, to safeguard the independence and impartiality of VerifAvia's verification services, and to all allow the team to focus on verification.
Consequently, SustainAvia no longer provides consulting or technical services to aircraft operators.